One plus is well liked and admired brand by the people. One plus is subsidary of Oppo which means Oppo is the parent company. One plus considered as the brand which always launches flagship phones in the market at really competitive price.
For past 3 years One plus was leading the market as number 1 smartphone manufacturing brand but after launch of samsung S10 and S20 series, Oneplus has fallen behind. But still there is huge fansbase of this brand. Oneplus offers sales in more than 34 countries all over the world and is growing day by day. Now Oneplus 7T is the flagship of the brand. But today we are going to do real life time review Oneplus 6T.
We are using this beast for almost 7 months and now know all its features, all its pros. and all its cons. Now we shall start will the design of the phone.
Design
This phone weighs around 185 grams with 6.41 inches optic amoled display (85.6% screen to body ratio) which gives 1089 x 2340 pixels of resolution and 402 PPI density the front panel is covered with gorilla glass 6 and back panel is also covered with hard glass. The phone is covered with alumunium frame and there is drop notch on the display where front camera is fitted. One bottom you will see one type C charging port and two speaker sadly there is no 3.5 mm jack.
Design looks pretty much solid for which OnePlus is known for and the fit and quality of side volume rocker buttons and alert slider is up to the mark as well.
Performance
OnePlus 6T is well known for its speed. The phone is configured with Chipset Qualcomm SDM 845 Snapdragon 845 (10 nm), CPU Octacore (4 x 2.8 GHz Kryo 385 Gold & 4 x 1.7 GHz Kryo 385 silver) and GPU Adreno 630, the phone which we have is running on android 10 and 128gb internal storage and 6gb of RAM. The phone is also available in 8gb ram as well.
Here, we dil all types of speed tests on phone and the phone was actually fast we played PUBG where we didnt see any glitch in full battle ground mode, the touch is super responsive and adequate, screen colours are amazing, graphic quality is top notch also as we played around 1 hour, the phone didnt get heat up it was quite normal also we played asphalt 8 which is alsi quite heavy game but the phone did it very smoothly. Performance wise this phone is way ahead than its rivals. We did multitasking, we did typing test, we did calling test and all was flawless and we didnt find any single issue. One one probelm we faced is that phone after lots of multi tasking phone starts up heating but that is minimal, otherwise there is no problem of hand or any glitch in the performance.
Rating: 4.5/5
Camera
This phone is equipped with two cameras one that combines a 16Mp main camera with a 20Mp secondary module that is used for digital zooming, a simulated bokeh effect, and other computational imaging tasks.
The primary camera features a 1/2.55″ sensor and an f/1.7-aperture lens with optical image stabilization; the secondary camera uses a slightly smaller 1/2.8″ sensor and a non-stabilized f/1.7 lens; and as before with the OnePlus 6, both cameras come with lenses that have the same equivalent focal length of 25mm.
Other camera features include phase-detection autofocus and a twin LED flash. In video mode, the OnePlus 6T rear camera can record 4K video footage at 60 frames per second, with Super Slow Motion available at 1080p and 240fps, or 720p and 480fps. (As per our protocol, however, we test video only at the camera's default setting of 1080p/30 fps.)
autofocus
A score of 100 is the highest that any smartphone camera can achieve for autofocus, and the OnePlus 6T's superb PDAF system puts it in the "100 Club." Autofocus is very fast and accurate in all light conditions and consistently achieves good focus. In the graph below, you can see that after defocusing the camera, the OnePlus 6T consistently found focus both after a short 500ms delay and a long 2000ms delay before triggering the shutter in low light (20 lux).
flash
The OnePlus 6T puts in a solid performance for Flash both when shooting in complete darkness and at a low light level of 5 lux. Its score is nearly on par with that of the Galaxy Note 9 (90 points), and far ahead of the iPhone XS (74). While there's some vignetting and color quantization on the face when viewed at close range, the OnePlus 6T's flash provides good exposure and avoids the annoying red-eye effect. There's a bit of left-to-right color shading that goes from greenish to purple, but this is only faintly visible and not particularly troubling.
zoom
When it comes to zooming, unsurprisingly, the lack of a tele-lens as its secondary camera is a bit of a handicap for the 6T, especially when up against competitors whose dual-cam systems make optical zooming possible.
As with other smartphone cameras that rely on digital zoom, there's rarely any way to get good quality above about 2x magnification at best. However, if you're going to view a zoom shot on a smartphone screen or tablet, you probably won't notice the lack of detail the way you would when viewing the image at 100% on on a large, high-res screen (such as shown in the crops below). This said, the lack of detail in the 6T's shot of the giraffe makes both the full image as well as in the crop noticeably softer than the Note 9's image.
bokeh
The OnePlus 6T's dual-camera setup allows it to simulate a bokeh effect. However, as you can see in our example shot below (left), while it does a good job of focusing on the subject and applying a pleasing blur to the background, it does not blur the potted plant in the foreground as does the Galaxy Note 9 (below right). Both cameras have a hard time dealing with the subject's hair (left side in particular), but the OnePlus 6T's has noticeably more difficulty doing so.
photos comparison of oneplus 6t and iphone xs
---
OnePlus 6T Camera app and user experience
Camera app
In terms of the user experience of the OxygenOS camera app, the OnePlus 6T represents a significant regression from older OnePlus phones such as the OnePlus 3T. This is because frequently, whenever the user opens the camera app and takes a photo, the onscreen shutter button is unresponsive. Users will have to press the button at least two or three times for it to respond. This is a bug that has been persistent across multiple OTA updates received over the course of reviewing the device, and it leads to a degradation in user experience.
When it works, the OnePlus 6T uses its phase detection autofocus (PDAF) to focus quickly, and take photos without apparent shutter lag in daylight. In low light, the camera does have a slight amount of shutter lag, which can be inconsistent at times. It's also worth noting here that the phone doesn't have dual pixel autofocus. Top-tier flagship phones will generally do a better job than the OnePlus 6T when it comes to the speed of focusing and taking photos, especially in low light.
The camera app maintains a high frame rate in all cases, which is a plus. However, a minor negative here is that the resolution of the camera preview isn't as high as it could be. Another thing which I found misleading is that in low light, the camera preview will almost always show a dark, underexposed photo, whereas the final photo will be properly exposed. Lesson learned: Users should ignore the lighting of the camera preview in low light.
Ultimately, the camera app's user experience isn't as great as it could have been. The immediate issue which needs fixing is the unresponsive nature of the shutter button for the first image taken after opening the camera app.
Conclusion
The OnePlus 6T has a very respectable smartphone camera, performing as well in most categories as some of the highest-ranked phones in our database — and even surpassing their performance in a few areas. In addition to outstanding autofocus for stills, the OnePlus 6T has excellent exposure and color, and very good flash performance.
Its biggest drawbacks are its lack of optical zoom, problems with noise in low light, and some artifacts. With the exception of noise control, however, the 6T represents an improvement over its older sibling, the OnePlus 6; in short, the OnePlus 6T is a good choice when comes to camera.
Now we come to front camera of OnePlus 6t.
The OnePlus 6T has a 16MP camera on the front too, just like the OnePlus 6. It's mated to an f/2.0 aperture lens, which the EXIF says has a 20mm equivalent focal length. It really doesn't. It's more like a 25mm (which is what the OP6 used to report back in the day, only now the old model says 20mm too – just OP things?).
EXIF musings aside, the OP6T takes some impressively detailed selfies under the right light. However, if the HDR mode kicks in it robs images of absolute sharpness, and it does tend to kick in a lot.
earphones sound and external amplifier sound
The move away from a 3.5mm audio jack has cost the OnePlus 6T a bit regarding loudness – the OnePlus 6 was above average both with an active external amplifier and with headphones, whereas its successor is average and below average respectively.
Yet, when it comes to clarity of the output, the two are virtually indistinguishable. You get perfectly accurate output without headphones and a moderate amount of stereo crosstalk when you plug them in. Some minor intermodulation distortion and frequency response shakiness also appear, but those are impossible to detect without dedicated equipment.
oneplus 6t bullet earphones
With headphones in this price range you might expect a cheap and flimsy build quality, and in this case, you'd only be partially right. While the cable doesn't inspire any confidence, the earbud housing is made of a tough metal that I don't see breaking anytime soon. On top of that, the control module is well-built with clicky buttons that don't leave you guessing whether or not you actually did anything, and the Type-C connector at the end feels sturdy as well. Of course, I've only been testing these for about one week so I can't speak to how they will hold up over time, but one thing that I wish OnePlus did here was to add some extra reinforcement to the connector as it looks like it.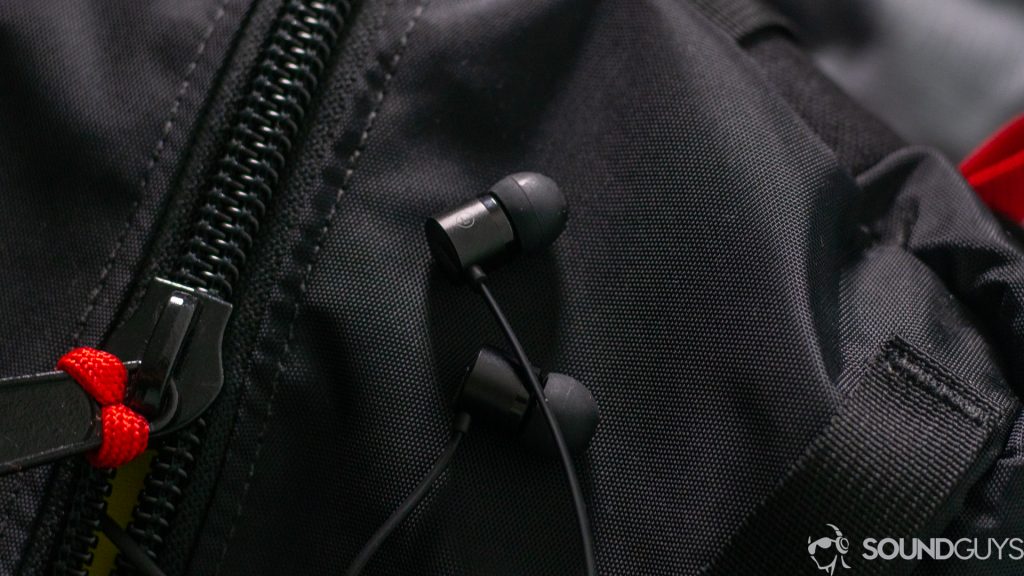 The earbuds come in a sleek all-black color option.
If you don't really pay too much attention to what's going on in the phone world, then you might not know what OnePlus is. The company has made a name for itself by making competitive phones for way less than the competition, and it has gathered an almost cult-like following because of it. That said, smartphones aren't the only category the company is hoping to disrupt and has been starting to release a number of headphones as well. We already looked at the OnePlus Bullets wireless and were fairly impressed by what you get for the price, but now we're taking a look at the wired OnePlus Bullets that only cost around $20. There's a twist though. Seeing as many phones don't have a headphone jack anymore these connect via USB Type-C. So do we finally have a good pair of USB-Type C headphones to choose from, or are these more of the same?
Who are these for
Anyone with a USB Type-C phone that's done away with the headphone jack. While I experienced weird playback control issues with my Pixel 3, these still sound good and only cost $20.
Anyone that needs a backup pair of 'buds. Even if you have a great pair of over-ear headphones that you bring everywhere with you, having a backup pair of 'buds in your bag is always a good idea. Especially because if you have a phone without a headphone jack then your options for USB Type-C earbuds are already pretty limited.
How are the OnePlus Bullets built?
The earbuds themselves are small, made of aluminum, and pack a punch.
With headphones in this price range you might expect a cheap and flimsy build quality, and in this case, you'd only be partially right. While the cable doesn't inspire any confidence, the earbud housing is made of a tough metal that I don't see breaking anytime soon. On top of that, the control module is well-built with clicky buttons that don't leave you guessing whether or not you actually did anything, and the Type-C connector at the end feels sturdy as well. Of course, I've only been testing these for about one week so I can't speak to how they will hold up over time, but one thing that I wish OnePlus did here was to add some extra reinforcement to the connector as it looks like it will eventually give out.
The control module has a subtle OnePlus logo next to the microphone.
As far as comfort goes, these do feel a little loose in my ears but it never ended up being a problem. They stayed in my ears fairly easily during my commutes, though I will say that I accidentally snagged them on something and ripped them out on multiple occasions. This is a problem with all wired earbuds obviously, but even more so with the OnePlus Bullets because the cables that have the earbuds on them don't have a wire cinch. So I couldn't secure the loose cables closer to my chin which made it easier to get caught on stuff while moving around.
The other issue that I had with the build quality had to do with the flat cable which is supposed to be harder to tangle. Keywords: supposed to be. It seemed like I was having to untangle them every other time I took them out of my pocket. In all fairness, I'm intentionally rough with headphones while testing them to make sure they can withstand the strain, so if you give these a little extra TLC and wrap them up correctly before putting them away you shouldn't have any issues.
Sound Quality
The OnePlus Type-C bullets have a flat cable 1.2m cable.
Even at a price $20, the build quality and connection issues that I had made it hard to call these a steal. Then I used them. While they don't sound amazing, it wouldn't be hyperbole to say these are one of the best sounding earbuds I've tried at this price point USB Type-C or not. They certainly beat the crap out of the Google earbuds, anyway.
Final thoughts
While the issues with the OnePlus Type-C Bullets playback controls make it annoying as it forced me to pull out my phone every time I wanted to change the song, the sound quality at around $20 made up for that inconvenience. Especially since these have a fairly standard sized nozzle on the earbuds, so I was able to throw on a pair of memory foam tips for added isolation (and thus way better sound). If you have a phone with USB Type-C connector, you should definitely consider picking up a pair of these for yourself even if it's just as a backup pair to throw in your bag for a rainy day.
oneplus 6t battery
Firstly we tore OnePlus 6t and find this, thats how OnePlus 6t battery looks like:
The OnePlus 6T's 3,700 mAh battery is slightly bigger than the OnePlus 6's 3,300 mAh pack, but the new device also has a slightly larger display.
In my five days of testing the 6T, I found it to be a champ. For instance, I charged up the 6T to 100 percent and then used it for 20 hours, from late afternoon to lunchtime the following day. I took the phone running, listening to the new Robyn album over Apple Music.
After streaming Dr. Strange on Netflix over Mobile's LTE network on a full charge, the 6t still had 77 percent life after 90 minutes.
I streamed YouTube videos. I took several rounds of photos. I paired running headphones to the phone and used its app to fine-tune the settings. I uploaded files to Dropbox. After all that, the 6T's battery was still chugging along at 50 percent.
In a video-streaming test, where I watched Dr. Strange on Netflix over T-Mobile's LTE network on a full charge, the 6T still had 77 percent life after 90 minutes.
Two flagship features the 6T is still missing are wireless charging and an IP rating. The device's all-glass body would make wireless charging possible, but the company is sticking with its Dash Charge technology for traditional charging over USB-C. Luckily, Dash Charge is incredibly fast, juicing up your OnePlus from 0 to 60 percent in 30 minutes.
fingerprint sensor
The biggest selling point of the OnePlus 6T is that it has a fingerprint scanner built into the display, dubbed Screen Unlock by the company. Face Unlock is back too, though it hasn't actually changed from the camera-only system featured in the 6, so that's barely worth mentioning. Back to the shiny new things.
I remapped my thumbprints quite a few times in the first couple of days with the device, simply because I kept putting my thumb down and finding the scanner wasn't recognising my thumbprint. The remaps helped at first, but there are still times where my thumb alignment is just slightly off which the phone doesn't like. It seems as though part of this stuff stems from the fact you have to cover the whole sensor, and if it sees something it doesn't like it won't unlock the screen. The rear scanner on the OnePlus 6 didn't have this problem, and was happy to scan a partial print – just as long as it had enough to recognise it is actually my finger.
But despite some of those growing pains, the in-display scanner does work, and quite well. It's noticeably slower, despite there only being a 0.15ms difference between it and the rear-mounted scanners of days gone by. I also managed to get used to placing my thumb in the right place quite quickly. It only took me about a day, though, so while you have to be patient you don't need to be that patient.
One final point to note is that the in-display scanner only registers you when the screen is on. So to speed up the unlock process, it's best to have the ambient screen mode switched on, or at the very least activate the 'double tap to wake' gesture. Otherwise you'll end up having to press the power button, which makes the whole process take far longer than it should.
The in-display fingerprint scanner is a snazzy piece of tech, and this clearly the start of a shift in smartphone tech as they move away from the physical scanners we've had for the past five years. That said, I actually prefer the physical one. For starters it's designed to be used without having to look at it, so I can unlock my phone while it's still in my pocket – further speeding up the process. Maybe I'll get to that point with an in-display scanner, but since the scanning area feel indistinguishable from the rest of the phone it's going to take a long time.
Yes, you can unlock the phone from the front again, which a lot of people are going to love, but I never found the rear-placement to be a problem. I'm certain I'm in the minority, and as impressed I am that the in-display scanner works, I think I'll stick with the old one for as long as I can get away with.
durability test (drop test)
we dil all types of durability test on OnePlus 6t and yet it passed through mostly all of them.
In knife scratch test, phone was pretty adamant to prove that it is scratch resistant, there were no scratch on main screen and the back panel only there were few scratches on the side of alumunium panel otherwise the phone did pretty well.
In water resistance test, though phone is not water resistance still it was very impressive, the phone survivied almost 40 minutes yet it was working properly.
In drop test, it was bit disappointing that the back panel of phone did not survive a normal 6 feet drop although front panel did survive well also the frame of the phone is solid enough to absorb that fall.
conclusion
The OnePlus 6 is a device that generally impressed me a lot. I was going into the review without any expectations or preconceptions as it was my first OnePlus device to more thoroughly review.
Design-wise, the OnePlus 6 marks a major change for the company as it employed a new industrial design. Most notably, this is visible in the back of the phone as the new glass cover marks a replacement for the previous metal chassis. The review unit which I've got had the new matte "Midnight black" variant which offers a sanded glass finish. I've actually really liked the finish as it feels very unique and is less of a fingerprint magnet than the usual glass back. Some people have noted that they didn't like that it's more slippery than the shiny glass variants – I can't really comment on that other than saying that I personally didn't have an issue with it.
Performance of the OnePlus 6 is its absolute shining point, it is one of the fastest devices I've ever experienced.
The camera on the OnePlus 6 also impressed me a lot in daylight shots. It was among one of the best cameras in terms of exposure, colour reproduction and resulting natural high dynamic range images. The 16MP shooter also was able to very much obtain some of the most detailed shots among current generation devices, although it was visible that OnePlus pushed quite hard in terms of the optics and the f/1.7 aperture, as we can discern some defects in the lens.
In night-time the OP6 did also well and is more than adequate as a shooter, although it's hitting hardware boundaries as it just doesn't have the same light capture abilities of other flagships.
The second sensor on the OP6 is one of very limited value as its only use-case is the depth perception within the portrait mode. Given that the bokeh blur is actually a computational effect applied in software, adding a second module just for depth perception is an expensive endeavour which doesn't benefit the camera in any other capturing modes. I wish OnePlus had invested the resources into a wide-angle or telephoto lens instead.
Speaker wise, it's probably one of the weaker phones out there as the sound quality is below other flagships. However the OnePlus 6 has a 3.5mm headphone jack – which can be make or break decision for a lot of buyers, so congratulations on OnePlus for keeping the option for the consumer.
The battery life of the phone is also excellent. It doesn't top out the charts as it does only have a 3300mAh battery, but the SoC and screen are power efficient enough to make up for it.
Overall I think the OnePlus 6 is an excellent device, and while it's not perfect, it offers incredible value at its price range and easily beats out any other contender.